About the area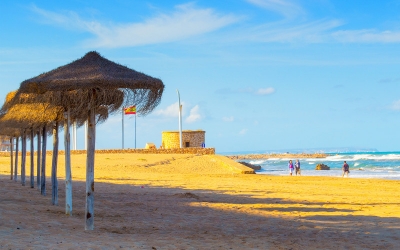 According to The World Health Organisation this part of Spain, Costa Blanca Alicante province has one of the healthiest climates on the planet. The major reasons behind this are both the mildness of the climate throughout the year and the low levels of humidity in the air. A major contributing factor to this low level of humidity is the drying effect of the salt lakes. As a result people with conditions such as arthritis which are aggravated by the cold and damp have found the climate here very beneficial with many of them seeking to move or purchase holiday homes.
The weather in the Costa Blanca is of a subtropical Mediterranean climate. You can expect around 3000 hours of sunshine per year and an average temperature in excess of 200C. The temperature is cooled in the summer by sea breezes and the surrounding mountains protect from cold north winds in the winter. You can expect up to 325 of sunshine days per year. Summers are very long, hot and dry with winters being cool to mild, with very scarce precipitation being below 300 mm per year. The Costa Blanca consists of 200 kilometres of coastline belonging to Alicante and is also called 'The White Coast' There are so many beautiful beaches to choose from such as; Guardamar Del Segura, La Mata and La Marina.
There is a great selection of golf courses on offer in the Costa Blanca South.The first course, Villamartin, was inaugurated in 1972 and since then another ten have been created. There is a course for every ability, from the beginners to championship courses including; Las Ramblas, Dehesa de Campoamor, La Finca and La Marquesa.The Costa Blanca South is serviced by two airports Alicante and Corvera where you will find a good selection of flights from the UK and other countries all year round. There are so many wonderful places to visit in this area such as; Alicante City, Elche City, Torrevieja, Guardamar Del Segura, La Mata, San Miguel, Almoradi, Rojales and Los Montesinos. Check out our website soon for more detailed area guides.